Welcome to the National Health Security Resilience Assessment (NHSRA)
The NHSRA is a detailed examination of Australia's capability and capacity for research, development, manufacturing, supply chain resilience and distribution of priority products and solutions that contribute to national health security.
Multiple government agency stakeholders were consulted in the development of this assessment, including stakeholders from the Department of Health, the Department of Foreign Affairs and Trade (DFAT), the Defence Science & Technology Group (DSTG), Army, the Commonwealth Scientific and Industrial Research Organisation (CSIRO), the Department of Industry, Science, Energy and Resources (DISER), the Advanced Manufacturing Growth Centre and MTPConnect.
* Click here to access the survey portal *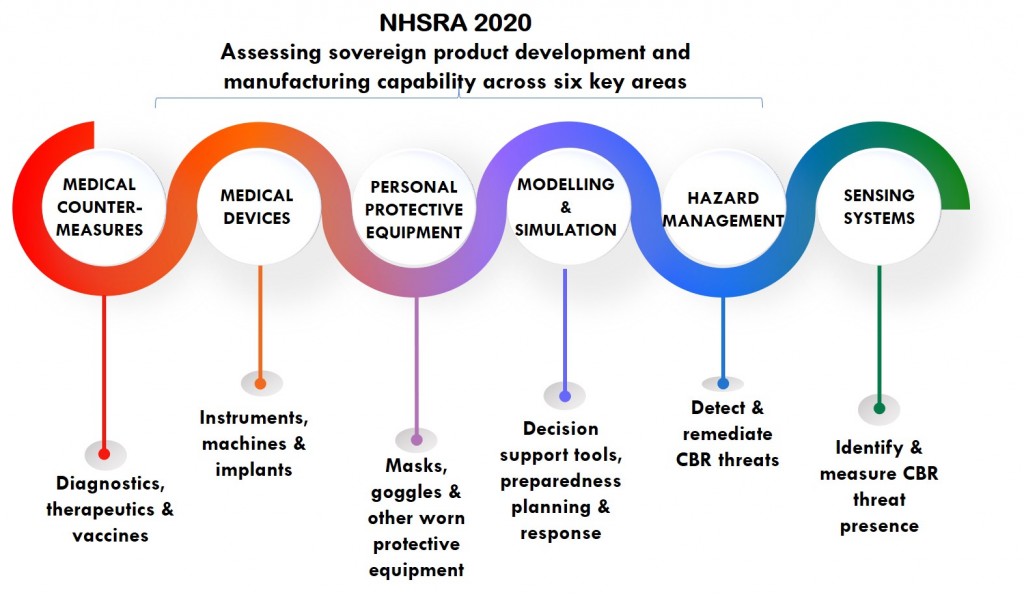 This year's Assessment will assess research, product development and manufacturing capability in six sectors, namely:
Medical Countermeasures (MCM):
Medical Countermeasures (MCM) are vaccines, therapeutics and diagnostics against chemical, biological or radiological (CBR) threats, emerging infectious diseases or pandemics.
Medical Devices:
Medical Devices include an instrument, apparatus, implement, machine, implant or other similar article intended to ameliorate, treat or reduce the impact of a CBR threat (e.g. ventilators).
Personal Protective Equipment (PPE):
Personnel Protective Equipment includes protective masks, respirators, clothing, helmets, goggles, or other garments or equipment designed to protect the wearer's body from injury or chemical, biological and/or radiological (CBR) threat.
Modelling and Simulation:
Modelling & Simulation and other digital decision support tools for preparedness, planning and response to chemical, biological and radiological (CBR) threats (natural and/or man-made).
Hazard Management:
Hazard Management encompasses the areas of detection and remediation of chemical, biological and/or radiological (CBR) contamination in different operational settings (i.e. personal, environmental or platform decontamination).
Sensing Systems:
Sensing Systems sense the presence and/or concentration of chemical, biological or radiological (CBR) threats; and provide a resulting measurement which may be qualitative or quantitative.
The survey has been designed with the user in mind. Once the compulsory 'Introduction' section is completed, each user has the ability to select whichever sector/s may be relevant to their organisation. Within each sector, a user can decide whether they wish to answer all of the questions or to only answer questions within a particular capability group of that sector.
Multiple respondents from any one institution are permitted to complete the survey.
We strongly encourage you to take the time to complete the survey. Your input to this assessment is critical to providing a truly national picture of Australia's capability and capacity in the health security ecosystem. We acknowledge that this is a particularly detailed survey. Depending on your organisation's capability and capacity in the six critical sectors identified, completion of the relevant NHSRA surveys could take between 15 minutes to 1 hour to complete.
The results of the NHSRA will be analysed in conjunction with whole-of-government stakeholders. Once your organisation has completed the survey, selected participants will be invited to participate in interviews to enable more detailed discussion of your organisation's capabilities or capacity in particular sectors covered by the NHSRA. A report on the NHSRA findings will be published to inform Government stakeholders and policy-makers.
If you encounter technical difficulties in registering or completing this survey, please contact NHSRA Administration at nhsraadmin@dmtc.com.au.
More information on the DMTC Medical Countermeasures Program is available here.
---
Frequently Asked Questions (FAQ):
Do I have to register to access this survey? 
Yes, you must register to complete the survey. Registration can be completed here.
How long do I have to complete the survey once I have opened it?
As this survey may take some time for your organisation to complete, you can save your entered information and return later to complete. We recommend that you complete the survey as soon as possible.
Can my colleagues from the same organisation/government department/ company complete the survey as well as myself?
If you are an industrial organisation we would recommend that only one person from your organisation complete the survey. However, if you are from a government department or university, multiple people are permitted to complete the survey as we acknowledge that there are different branches, divisions, faculties, schools and institutes. Within the 'Introduction' section of the survey please ensure you specify the faculty, school, institute or laboratory to which you belong.
I am having technical issues and cannot access the survey, who do I contact?
Any issues with the survey can be dealt with by contacting: NHSRA Administration at nhsraadmin@dmtc.com.au