Where are they now?
DMTC's investment in future leaders in research and technology puts an emphasis on broad professional development and professional skills to complement their subject matter knowledge and expertise. One example is the opportunity for DMTC-supported students to showcase their work to their peers and others in the DMTC community through presentations at DMTC's Annual Conference.  
DMTC-supported candidates have successfully transitioned into careers in defence and related sectors, whether in postdoctoral research or professional positions. Read some of their stories here: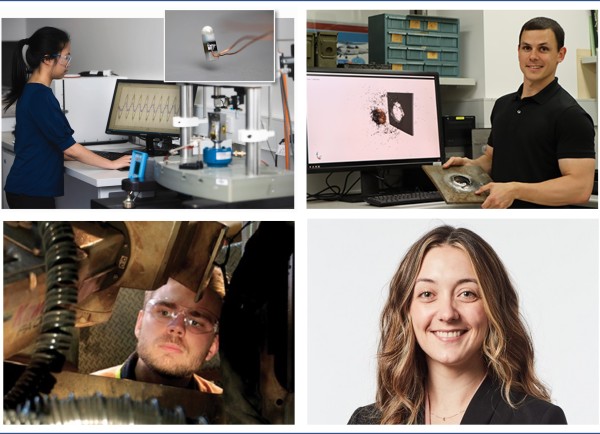 Our Program – Postgraduate Scholarships
DMTC offers full, half and top-up Masters and PhD scholarships to students at partner universities based on alignment with future defence capability requirements and industrial opportunities for Australian industry. Masters and PhD projects are utilised to investigate specific areas of research within larger collaborative projects involving Defence, industry and research partners.
Due to the often sensitive nature of Defence projects, applicants must satisfy requirements to obtain an Australian Government security clearance.
Since 2008, DMTC has supported more than 50 postgraduate candidates through scholarships and professional development courses.
Professional Development Program
DMTC's approach to knowledge and skill development ensures the best and brightest students can make meaningful contributions to Defence capability throughout their studies and, more importantly, throughout their careers.
DMTC Education Program activities include:
professional development workshops for broader sector-relevant skills development that align with the needs of DMTC industry and research partners (e.g. Presentation Skills, Writing Workshops, Careers Workshop, etc.);
a Student Conference where students present their research work to academics, industry partners and their peers;
involvement in project reviews and research utilisation discussions with industry partners; and
support to attend conferences.
Collaboration with other Defence Scholarship Programs
DMTC's Education Program collaborates with counterpart organisations including the Defence Science Institute (DSI) and across the Australian Defence Science & Universities Network by involving students from these programs in DMTC workshops and annual Student Conference.
Undergraduate Vacation Student Program
DMTC invests in developing early stage science, technology, engineering and mathematics skills though its established Vacation Student program in which final-year engineering and science students are sponsored to complete 12 weeks of vacation employment with DMTC partners. Enquires should be made through our partner universities.